€99.00
Price incl. VAT 23%
Other product variants

USB/MIDI Controller | HN206853
In Stock
Software: Ableton Live Lite, XLN Audio Addictive Keys, Klevgrand R0Verb, Klevgrand DAW Cassette, AAS Session Bundle, Softube Time and Tone bundle Battery Operated: No Input Ports: USB-C Output Ports: N/A Colour: Black USB midi: Yes Width: 180 mm Depth: 180 mm Height: 14.2 mm Adapter included: No Country of Production: China
USB/MIDI Controller | HN206854
In Stock
Software: Ableton Live Lite, XLN Audio Addictive Keys, Klevgrand R0Verb, Klevgrand DAW Cassette, AAS Session Bundle, Softube Time and Tone bundle Battery Operated: No Input Ports: USB-C Output Ports: N/A Colour: Black USB midi: Yes Width: 241 mm Depth: 241 mm Height: 17.5 mm Adapter included: No Country of Production: China
USB/MIDI Controller | HN210913
In Stock
Software: Ableton Live Lite, XLN Audio Addictive Keys, Klevgrand R0Verb, Klevgrand DAW Cassette, AAS Session Bundle, Softube Time and Tone bundle Battery Operated: No Input Ports: USB-C Output Ports: N/A Colour: Black USB midi: Yes Adapter included: Yes Country of Production: China
Central Warehouse In Stock 5+ pcs
Save more money when you order this product in a package set.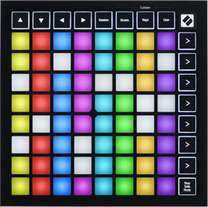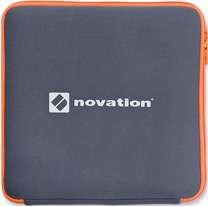 discount up to


19%
Order as a set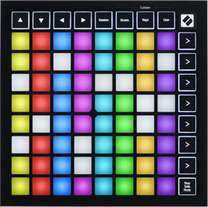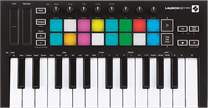 discount up to


11%
Order as a set
Launchpad Mini is one of the popular MIDI controllers whose main task is to control DAW software on your PC, laptop or tablet. The Launchpad Mini has won the hearts of customers especially with its compact size, light weight, simple design and intuitive operation. So you can take the controller with you anywhere and create or record music right on your long journeys or while relaxing in the countryside. The third generation Launchpad Mini sees new preset controls for faster mapping in software and improved 64 touch pads that are now even more responsive and backlit with RGB LEDs for better visibility, giving you good visibility especially during nighttime live performance and studio sessions. The rear panel has also undergone a change, where you'll now find a modern and fast USB-C port.

The pad is fully compatible with Ableton Live Lite software (included), just connect it via USB cable to your PC/laptop or other MIDI device and you can start creating your new recordings. The software is controlled via 16 touch pads that allow you to easily navigate the program without a single mouse movement. Included in the package is the software and a USB cable to connect to your device.


Start composing and playing

The Glow Pads make it much easier to keep things straightforward in Ableton when you're performing live and creating new sounds or beats. Thanks to the intuitive control panel, you'll have almost no need to use a computer mouse or keyboard at all. You can handle most settings and software controls directly from the Launchpad Mini.


Nothing holds you back

There's nothing stopping you from creating your own music anymore, the modern platform allows you to set up your device step by step according to your needs and preferences. As well as being ideal for studio work, Launchpad Mini is also ideal for live playing in clubs or on large stages.


Welcome aboard

Novation also includes a link to educational videos with its products that will teach you how to operate the device you've purchased and show you all the ways you can use it, including practical demonstrations and recommendations.


Take it with you everywhere

The compact size and light weight ensure you'll always have Launchpad Mini with you, whether you're flying on holiday, taking the train to visit your parents, or chilling in a café. It's also great with other MIDI controllers or sound modules.


Integration with intuitive Ableton Live

Launchpad Mini is fully compatible with the popular Abletone software, they complement each other perfectly and create a symbiosis you won't see anywhere else. 8x8 super sensitive pads greatly expand the software's capabilities, especially for live perfromance and looping beats. The side control panel, which allows you to control the entire software, only completes this grammatical relationship.


Sounds from Splice

Buying Launchpad Mini also gives you two months free access to the sound and plug-in "Mecca" called Splice. Here you'll find millions of the highest quality sounds and beats, and inspiration from the world's top producers, film sound designers and multiple Grammy Award winners.


Untethered jamming in Logic Live Loops 10.6

The third-generation Launchpad Mini is now also compatible with Logic Live Loops version 10.6, offering you convenient control and easy live looping with this intuitive MIDI controller.


Specifications
Software: Ableton Live Lite, XLN Audio Addictive Keys, Klevgrand R0Verb, Klevgrand DAW Cassette, AAS Session Bundle, Softube Time and Tone bundle
Battery Operated: No
Input Ports: USB-C
Output Ports: N/A
Colour: Black
USB midi: Yes
Width: 180 mm
Depth: 180 mm
Height: 14.2 mm
Adapter included: No
Country of Production: China
Send us your inquiry, our customer support specialists will respond soon. If we find the inquiry useful for other customers, it will be published here.