€163.00
Price incl. VAT 23%
Other product variants

Central Warehouse In Stock 2 pcs
Save more money when you order this product in a package set.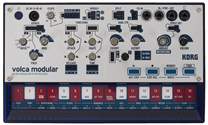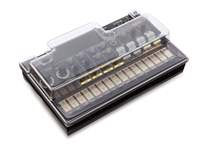 discount up to


4%
Order as a set
Korg's Volca family of tabletop synthesizers expands with the Volca Modular, a micro modular synthesizer with sonic roots in West Coast synthesis. There are 8 modules and a total of 50 patchpoints for sound creation. There's no shortage of sequencer and battery power options either. If you want to try a modular synth without having to sign a second mortgage, you now have a unique opportunity.


Analog modules

The analog modules are complemented by a digital stereo module resembling a reverb and a sequencer with sixteen steps. In addition to the FM modulated sound source and wave folder, we find among the modules a random generator, a low pass gate, envelope generators, Split for signal splitting or Utility for mixing and manipulating audio and control signals. Jendotiable modules are internally interconnected, so Volca Modular plays without the use of patch cables. But the real fun starts with them. You'll find one set right in the package.


Excellent sequencer

The sixteen-step sequencer offers step-by-step or real-time recording, the ability to chain patterns (up to 16) or record button movements to create sound variations. The Sequencer also features random playback with the ability to adjust the degree of randomness, new Bounce and Stochastic modes that vary the sequence, and you can also set one of fourteen scales (with a choice of key) for musical results, including equal tempered tuning.


Engage with

Connectivity is catered for by 3.5mm clock input and output jacks and a CV input with TRS connector (left ±5V, right 1V/Oct), the signals from which you can route to the control module. You can thus connect the Korg Volca Modular to other Volcas, Teenage Engineering's PO, the Modular Synthesizer, the SQ-1 Sequencer, or Korg's Monologue, Minilogue, Prologue synthesizers, among others.


Specifications
Colour: Black
Input Ports: 1x CV (jack 3,5 mm), 1x Jack 3,5 mm TS (sync), 50 x CV (patchpoints)
Output Ports: 1x Headphone Jack 3,5 mm TRS, 1x Jack 3,5 mm TS (sync)
Battery Operated: Yes
Sequencer: Yes
USB to host: No
USB to device: No
USB midi: No
Software: N/A
Width: 193 mm
Depth: 115 mm
Height: 39 mm
Weight: 0.37 kg
Polyphony: 1
Adapter included: No
Country of Production: Vietnam
Send us your inquiry, our customer support specialists will respond soon. If we find the inquiry useful for other customers, it will be published here.