€8.90
Price incl. VAT 23%
Other product variants
Soprano Recorder | HN081888
On Display
Tuning: C Fingering: English (Baroque) Material: Plastic Number of Parts: 3 Colour: White
Soprano Recorder | HN081887
On Display
Tuning: C Fingering: English (Baroque) Material: Plastic Number of Parts: 3 Colour: Brown
Save more money when you order this product in a package set.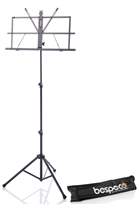 discount up to


23%
Order as a set
Soprano flute with baroque (English) system of holes. Can be disassembled into three parts. Supplied with textile cover.

The difference between the English and German fingering is that in the English (or Baroque) way you play the note "f" with two fingers - the index and ring fingers, i.e. the so-called fork. The German fingering plays this tone with only one finger - the index finger. Which flute to choose depends on the teacher, the baroque method is slightly more preferred.
Specifications
Tuning: C
Fingering: English (Baroque)
Material: Plastic
Number of Parts: 3
Colour: White
Send us your inquiry, our customer support specialists will respond soon. If we find the inquiry useful for other customers, it will be published here.