€285.00
Price incl. VAT 23%
Other product variants

USB/MIDI Controller | HN210913
In Stock
Software: Ableton Live Lite, XLN Audio Addictive Keys, Klevgrand R0Verb, Klevgrand DAW Cassette, AAS Session Bundle, Softube Time and Tone bundle Battery Operated: No Input Ports: USB-C Output Ports: N/A Colour: Black USB midi: Yes Adapter included: Yes Country of Production: China
USB/MIDI Controller | HN206854
In Stock
Software: Ableton Live Lite, XLN Audio Addictive Keys, Klevgrand R0Verb, Klevgrand DAW Cassette, AAS Session Bundle, Softube Time and Tone bundle Battery Operated: No Input Ports: USB-C Output Ports: N/A Colour: Black USB midi: Yes Width: 241 mm Depth: 241 mm Height: 17.5 mm Adapter included: No Country of Production: China
USB/MIDI Controller | HN206853
In Stock
Software: Ableton Live Lite, XLN Audio Addictive Keys, Klevgrand R0Verb, Klevgrand DAW Cassette, AAS Session Bundle, Softube Time and Tone bundle Battery Operated: No Input Ports: USB-C Output Ports: N/A Colour: Black USB midi: Yes Width: 180 mm Depth: 180 mm Height: 14.2 mm Adapter included: No Country of Production: China
Central Warehouse In Stock 5+ pcs
Save more money when you order this product in a package set.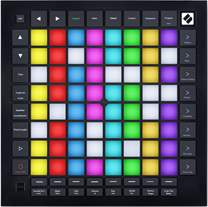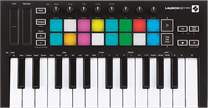 discount up to


11%
Order as a set
The third generation Launchpad Pro has new preset controls for faster mapping in software and improved 64 touch pads that are now even more responsive and backlit with RGB LEDs for better visibility, giving you great visibility especially during nighttime live performance and studio sessions. The rear panel has also undergone a change, where you'll now find a modern and fast USB-C port.

The pad is fully compatible with Ableton Live software (included), just connect it via USB cable to your PC/laptop or other MIDI device and you can start creating your new recordings. You control the software via 16 touch pads that allow you to easily navigate the program without a single mouse movement. Included in the package is the software and a USB cable to connect to your device.


Enhance your performances

Launchpad Pro is the most advanced and simplest grid controller for Ableton Live Lite. It integrates seamlessly and makes controlling Ableton Live as simple as possible by allowing you to manually control clips and tracks in one of four modes: Session, Note, Device and User. There's nothing to set up; simply plug Launchpad Pro in and start playing - you're all set.


Control everything

Whatever software you use, Launchpad Pro lets you control it, just like external hardware. Plug it directly into Logic Pro and use it as a keyboard, or plug MIDI into Bass Station II and play riffs directly on the grid.


Play clips instantly

The 8 x 8 RGB pad grid glows in the colors of your clips in Ableton Live, so you can fully focus on triggering them and combining loops and ideas.


Scale mode

The pads automatically assign notes to one of 32 scales and modes, so there's no reaching around.


Create dynamic beats

Drum racks automatically spread out and light up on the grid, making creating expressive beats and drum parts simple on the dynamically sensitive pads.


Play it like an instrument

You can easily play notes, scales and chords on the grid because Launchpad Pro lights up its pads in a melodic layout. As you press the pad, you'll get feedback from the RGB LEDs; if you're in Standalone mode, you can use the grid to control software or hardware instruments.


Mix without losing focus

View the mix section in the middle of a performance, for example, so you don't fall out of the flow. You don't need any external mix module; press and hold the Mixer button (like Mute or Volume), make a change, then release the button again to return to the original view.


Easily control effects

Control any Ableton effect or instrument directly while you play to add reverb, beat repeat, or filters. The grid turns into eight dynamically responsive vertical cues with LED feedback for subtle effect transitions.


Thin, lightweight and modular

This controller was made for live playing. Its compact size makes it easy to fit into a backpack, yet it's also resistant to the rigors of life on the road. You can power it via USB or use the power supply (included) to take full advantage of the extra bright RGB LED pads in club lighting. Like all Launch products, you can connect it to other Launchpads and the rest of your studio or concert set-up.


Make music right away

You don't need to install any drivers: just install the music software, plug in and you can start playing straight away. With Launchpad Pro you get Ableton Live Lite, one of four XLN Audio Addictive Keys, Novation Bass Station and V Station virtual instruments + 4GB of Loopmasters loops.


Practice your rhythm

Use Melodics to improve your drumming skills for free.


Get started now

Get started with Launchpad in seconds: Launchpad Arcade is a space where you can immediately dive into making music using Launchpad's familiar user interface.


Untethered jamming in Logic Live Loops 10.6

The third-generation Launchpad Pro is now also compatible with Logic Live Loops version 10.6, offering you convenient control and easy live looping with this intuitive MIDI controller.

If you purchase this product between May 17 and June 30, 2023 and register on Novation's website, you'll get access to 50% off the Ableton Live Suite. Then just redeem it in your Ableton account, which you create by activating the included copy of Live Lite.
Specifications
Software: Ableton Live Lite, XLN Audio Addictive Keys, Klevgrand R0Verb, Klevgrand DAW Cassette, AAS Session Bundle, Softube Time and Tone bundle
Battery Operated: No
Input Ports: USB-C
Output Ports: N/A
Colour: Black
USB midi: Yes
Adapter included: Yes
Country of Production: China
Send us your inquiry, our customer support specialists will respond soon. If we find the inquiry useful for other customers, it will be published here.