€748.00
Price incl. VAT 23%
Other product variants
Groovebox | HN174396
In Stock
Polyphony: 8 Input Ports: 2x Jack 6,3 mm TS, Midi In Output Ports: 2x Balanced Jack 6,3 mm TRS, Headphone Jack 6,3 mm TRS, Midi Out Battery Operated: No Sequencer: Yes USB to host: Yes USB to device: No USB midi: Yes Software: Overbridge Basic Colour: Black Width: 215 mm Depth: 176 mm Height: 63 mm Weight: 1.5 kg Adapter included: Yes Country of Production: Sweden
Synthesizer | HN186772
Expected on 30.8.2022
Polyphony: 8 Input Ports: 2x Jack 6,3 mm, Midi In Output Ports: 2x Balanced Jack 6,3 mm TRS, 1x Headphone Jack 6,3 mm, MIDI out, MIDI thru Battery Operated: No Sequencer: Yes USB to host: Yes USB to device: No USB midi: Yes Software: N/A Colour: Black Width: 215 mm Depth: 176 mm Height: 63 mm Weight: 1.5 kg Country of Production: Sweden
Central Warehouse In Stock 2 pcs
Save more money when you order this product in a package set.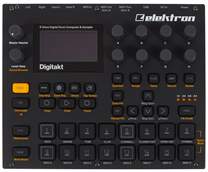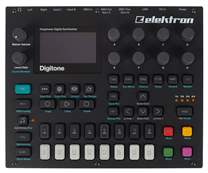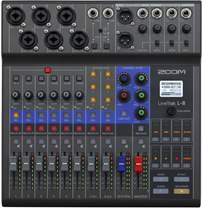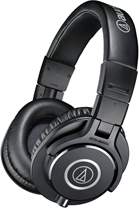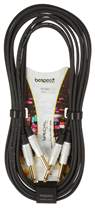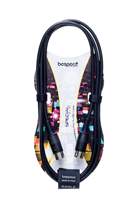 discount up to


2%
Order as a set
The Elektron Digitakt is a compact groove box, sampler and advanced sequencer designed for live playing. It is therefore very durable and the layout of the controls has been subordinated for quick orientation. Plus, thanks to the Overbridge software, you can integrate it into your DAW system and use it just as easily as a plug-in. Of course, MIDI support and a headphone output are also included. There are eight audio and eight MIDI tracks, Multi-mode filter, Distortion and assignable LFOs for each audio track, Delay and Reverb Send FX.

Digitakt is factory-filled with a variety of acoustic and electronic drum and percussion sounds and effects, so you can get right to production.

There is a new OS version for Digitakt 1.30 that offers a more powerful second LFO filter, external input functionality, improved modulation features, enhanced Reverb and Delay effects, or multi-track recording. For more information, visit the manufacturer's website.


Specifications
Polyphony: 8
Input Ports: 2x Jack 6,3 mm TS, Midi In
Output Ports: 2x Balanced Jack 6,3 mm TRS, Headphone Jack 6,3 mm TRS, Midi Out
Battery Operated: No
Sequencer: Yes
USB to host: Yes
USB to device: No
USB midi: Yes
Software: Overbridge Basic
Colour: Black
Width: 215 mm
Depth: 176 mm
Height: 63 mm
Weight: 1.5 kg
Adapter included: Yes
Country of Production: Sweden