€574.00
Price incl. VAT 23%
Other product variants
MIDI Controller, Groove Software | HN181485
In Stock
Software: Maschine 2.0, Komplete 13 Select Colour: Black Width: 320 mm Depth: 301 mm Height: 41 mm Weight: 2.2 kg Input Ports: 2x Jack 6,3 mm TRS (line), 1x Jack 6,3 mm TS (mic), MIDI In, 1x Footswitch Output Ports: 2x Jack 6,3 mm TRS (line), 1x Headphone Jack 6,3 mm, MIDI Out USB midi: Yes Adapter included: No Country of Production: China
MIDI Controller, Groove Software | HN195133
In Stock
Software: Maschine Essentials, Massive, Monark, Reaktor Prism Colour: Black Width: 320 mm Depth: 177 mm Height: 45 mm Weight: 1.1 kg Input Ports: Ne Output Ports: USB (B) USB to host: No USB to device: Yes USB midi: Yes Power from USB: Yes Country of Production: China
Central Warehouse In Stock 3 pcs
Save more money when you order this product in a package set.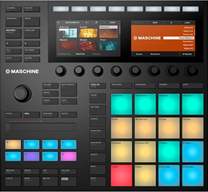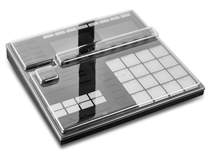 discount up to


2%
Order as a set
Native Instruments Maschine in MK3 version is a powerful hardware/software sampler, arranger, mixer, effects unit and sound card. You can create beats in no time, and even professional finger drummers will appreciate the customized, high-sensitivity pads. Maschine comes with the Komplete 13 Select sound library, making it a very flexible production tool that takes you several steps further.
The main new feature is the larger pads, which offer more room for flame or expressive transitions. This will suit both beginners and advanced, technical players. An overview of all parameters, sounds and instruments is provided by a pair of displays. These keep you in control at all times - for example, editing samples. Quick workflow is ensured by a series of controls directly on the front panel. For example, eight knobs for quick parameter editing, a four-sided encoder, a button for quick note repeats, or save and open for saving and opening projects without having to touch the mouse.
Mashine isn't just a sophisticated controller, though, it's also a 96kHZ/24-bit soundcard with a dynamic microphone or line input for quick sampling of anything you can think of. Of course, MIDI connectivity is included, for interfacing with other peripherals. Maschine comes with Maschine 2.0 software and the Komplete 13 Select music library. The latter contains 17 products, including monophonic and polyphonic synthesizers based on legendary models or designed for contemporary production. In addition, you can enrich your tracks with the sound of acoustic pianos, vintage electric pianos, organs, drums or exotic percussion. You can then fine-tune the final look of your mix with a compressor or delay effect.
Dust cover for NI Maschine Mk3:
DECKSAVER NI Maschine MK3 cover
Specifications
Software: Maschine 2.0, Komplete 13 Select
Colour: Black
Width: 320 mm
Depth: 301 mm
Height: 41 mm
Weight: 2.2 kg
Input Ports: 2x Jack 6,3 mm TRS (line), 1x Jack 6,3 mm TS (mic), MIDI In, 1x Footswitch
Output Ports: 2x Jack 6,3 mm TRS (line), 1x Headphone Jack 6,3 mm, MIDI Out
USB midi: Yes
Adapter included: No
Country of Production: China
Send us your inquiry, our customer support specialists will respond soon. If we find the inquiry useful for other customers, it will be published here.