€725.00
Price incl. VAT 23%
Other product variants
Synthesizer | HN186772
In Stock
Polyphony: 8 Input Ports: 2x Jack 6,3 mm, Midi In Output Ports: 2x Balanced Jack 6,3 mm TRS, 1x Headphone Jack 6,3 mm, MIDI out, MIDI thru Battery Operated: No Sequencer: Yes USB to host: Yes USB to device: No USB midi: Yes Software: N/A Colour: Black Width: 215 mm Depth: 176 mm Height: 63 mm Weight: 1.5 kg Country of Origin: Sweden
Groovebox | HN174396
In Stock
Polyphony: 8 Input Ports: 2x Jack 6,3 mm TS, Midi In Output Ports: 2x Balanced Jack 6,3 mm TRS, Headphone Jack 6,3 mm TRS, Midi Out Battery Operated: No Sequencer: Yes USB to host: Yes USB to device: No USB midi: Yes Software: Overbridge Basic Colour: Black Width: 215 mm Depth: 176 mm Height: 63 mm Weight: 1.5 kg Adapter included: Yes Country of Origin: Sweden
Central Warehouse In Stock 2 qty
Save more money when you order this product in a package set.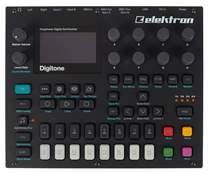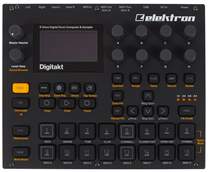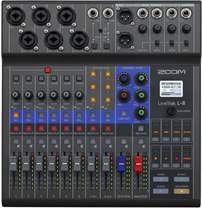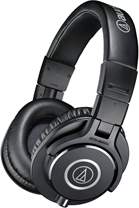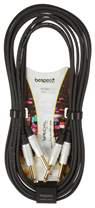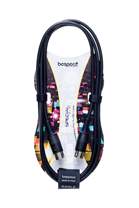 discount up to


3%
Order as a set
Elektron Digitone is a digital synthesizer with eight voices of polyphony, combining the almost limitless possibilities of sound creation by FM synthesis with the signal path of subtractive synthesis known from analogue. There is also a very flexible sequencer and effects unit. All this in a very compact package and with intuitive controls.

The polyphony consists of eight voices, each with several FM algorithms, two filters, an overdrive and a pair of LFOs for modulation. This opens the way to creating truly complex sounds.

Sounds can be arranged into sequences, with four tracks for the synth and four tracks for MIDI, so you can control external equipment at the same time. The manufacturers haven't forgotten about the arpeggiator, of course, polyphonic sequencing or assigning different sounds or parameters to each step separately.

The signal path is completed by the send effects Panoramic Chorus, Saturator Delay and Supervoid Reverb + Overdrive as master effect.

Modern producers will also enjoy full integration with Overbridge software, which allows Digitone to be fully integrated into your DAW.
Specifications
Polyphony: 8
Input Ports: 2x Jack 6,3 mm, Midi In
Output Ports: 2x Balanced Jack 6,3 mm TRS, 1x Headphone Jack 6,3 mm, MIDI out, MIDI thru
Battery Operated: No
Sequencer: Yes
USB to host: Yes
USB to device: No
USB midi: Yes
Software: N/A
Colour: Black
Width: 215 mm
Depth: 176 mm
Height: 63 mm
Weight: 1.5 kg
Country of Origin: Sweden